Golfsimulator
A golf simulator utilizes the latest technology to enhance your golf game. Play on courses from around the world or compete against your friends in fun competitions. 
Our golfsimulator can be used by all levels.
Golfsimulator
In addition to golf courses from around the world and fun competitions, the golf simulator also provides insights into your shots and how you can improve your game.
Prices
When booking times before 3:00 PM: 200,- DKK per simulator per 55 minutes
When booking times after 3:00 PM and on weekends: 300,- DKK per simulator per 55 minutes.
We recommend a maximum of 4 people per simulator.
The price includes equipment rental, which is available in the room.
Opening hours
The golf simulator can be booked between 06:00 AM to 11:00 PM year-round.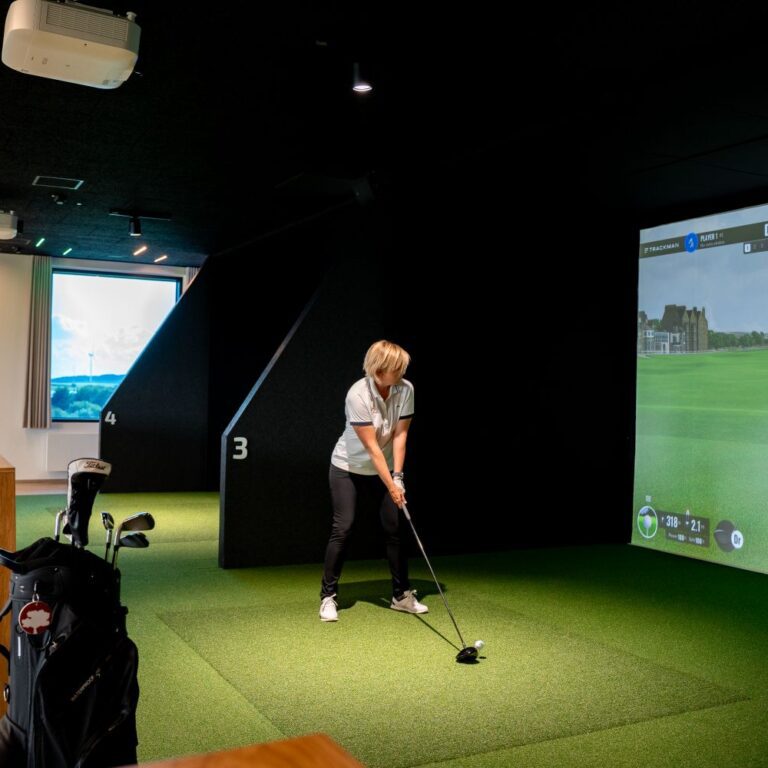 Use data to optimize your golf game
If you love data and enjoy diving into both major and minor areas of improvement, you will certainly appreciate the insights that a TrackMan golf simulator provides.
With a TrackMan golf simulator, you can improve your game by analyzing your technique and adjusting your shot power and precision. You can also practice specific situations and hone your skills with different clubs and irons.
A session in our golf simulator can be a fantastic investment for those seeking a deeper understanding of their data and how to improve their golf game.
Optimal golf facilities year-round
In addition to golf courses from around the world and fun competitions, our 6 golf simulators also provide you with insights into your shots and how to improve your game. You can choose between our 4 golf simulators, which allow you to practice on your own and challenge your golf friends, or our 2 golf simulators, where you can receive training and lessons and participate in events.
Fitting
Golf fitting is an essential part of the benefits of the golf simulator. It's a customization process where you can have equipment like golf clubs and ball selection adjusted and tailored to your individual playing style and physical attributes. The golf simulator is equipped with advanced measurement technologies that gather data about your swing patterns and shot strength, which is used to enhance your golf game.
Fun Games
For those seeking an enjoyable challenge, golf simulators offer various skill games and competitions. This can include everything from precision challenges where you have to hit targets on the screen, to distance challenges that test how far you can hit the ball. These skill games add an element of competition and fun to your training.
Virtual Golf Tournaments
Our golf simulator also allows you to participate in virtual golf tournaments. Here, you can compete against friends or other players online and experience the thrill of playing in a tournament-like atmosphere. This adds a social dimension to the golf experience and lets you measure your skills against others.
Practical Information
Personal Code
When booking our golf simulators, please use the 6-digit code at the main entrance and at the door to our golf simulator studio that you received upon booking. The golf simulator will automatically start at the reserved time – follow the instructions displayed on the screen.
Clean Balls Only
Both golf sets and balls are included in the price. Golf sets and balls are available by the simulators.
Please note that it's only allowed to play with completely clean golf balls on our TrackMan golf simulators.
Our food is both ordinary but also something special
We take pride in ensuring that meals reflect the soul of the house and are tailored to our guests' tastes and preferences. Local ingredients, sustainability and quality go hand in hand and we never compromise on taste.