Spa areas
The range of facilities in our spa area includes a Snowbliss, steam bath, foot baths, herbal sauna, salt lounge, outdoor whirlpools, and a spa café and shop.
Herbal sauna
The herbal sauna is a bio sauna with a special aroma. Here, the warmth and fragrances surround you while you relax and unwind. The sauna is at a temperature of 45-70 degrees and has a humidity of 10-40%.
Panorama sauna
In our thermal area, you will find a cosy sauna with a beautiful view of the scenery of HimmerLand. From 2023, you will also have a view of our architect-designed multi-purpose hall. In the panoramic sauna, you can experience aufguss at selected times, where aesthetic oils and relaxing scents surround you in the warm sauna. In addition to its unique look, the Panorama Sauna is a traditional Finnish sauna that is kept at 85-95 degrees. The large, warm sauna is the perfect place for relaxation and quality time.
Sauna by the lake
At Sjørup Sø, just a 5-minute walk from the resort, we have a sauna that can be enjoyed all year round after a dip in the lake. The sauna must be booked in advance via our reception.
Snowbliss
If you need to freshen up, you can try our Snowbliss. Here, you get a cold experience, just as you know from winter's cold weather and the snow.
Snowbliss is a snow bath that lets a lot of snow fall on you. At the touch of a button, you'll have a fun experience as the snow falls on you, giving you a nice, cooling experience. You can choose to be refreshed by a cosy snowfall or have a more intense experience with a snowstorm.
The cold bucket
The sauna bucket shower is perfect for challenging your friends and acquaintances, for challenging yourself and for boosting your immune system.
In HimmerLand Spa, you can try the big cold bucket, where you can cool down after the sauna. When you pull the cord, a large amount of cold water suddenly falls on you, giving the body a thermal shock. It helps strengthen the immune system, boosts circulation, and re-energizes the body.
Pool
HimmerLand Spa offers many unique spa experiences, but we do not deviate from a classic and popular heated pool. In HimmerLand Spa, you will find a beautiful pool where you can enjoy the warm water both indoors and outdoors. There's something special about diving into the warm water, and when you reach the surface again, you can feel the fresh Danish air hit your face. The pool is located in the finest surroundings on our spa terrace.
Steam bath
When you step into the steam room, you're surrounded by a moist heat that warms your body and softens your muscles. The steam bath is between 42-47 degrees. Despite relaxing in the hot steam you can endure different steam experiences. At different times, the steam room will transform into a Turkish bath or a unique steam experience. The steam bath is a unique experience that will vary. The steam room can be a great place for quality time, adventure and fun when you get surprise by the different types of experiences you can have in the steam room.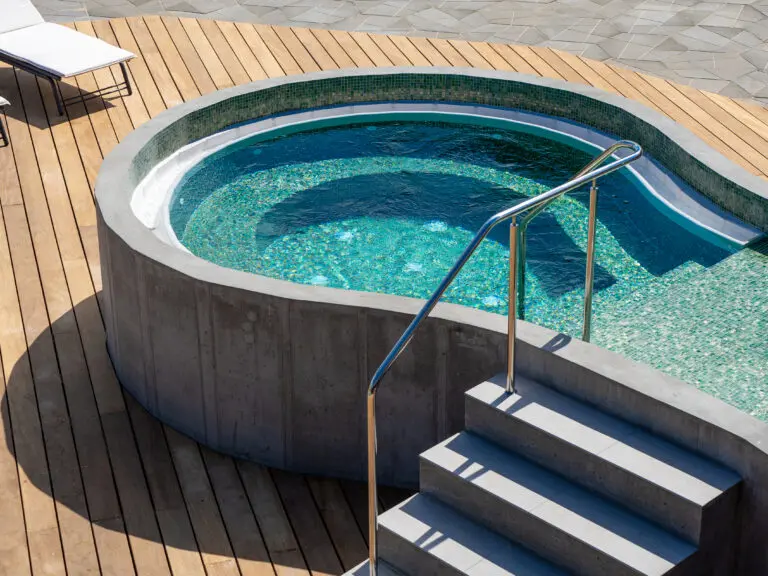 Whirlpool tub
On the beautiful spa terrace, you will find two hot tubs. Here you can enjoy relaxing and quality time while looking out over the beautiful views that surround HimmerLand Spa. No matter what time of year you visit HimmerLand Spa, the hot tubs are a wonderful and popular spa experience. You can feel the elements all around you. Whether it's the sun warming your skin, the wind blowing through your hair, or the raindrops hitting your face, you'll feel at peace and in control.
Salt Lounge
In our salt lounge, you will experience a unique atmosphere where well-being and relaxation are the focus. In the salt lounge, you can enjoy time in the floating bunks, feeling the salts cleanse your body and unite the day's many experiences.
The salts that circulate in the room have a relaxing effect on the body, strengthen your immune system, and have a positive effect on your skin, which will feel nice and soft afterward.
Sit back and relax as the salts slowly work. Here, the time is all yours.
Footbath lounge 
In our cosy footbath lounge, you have the opportunity to pamper your feet while socializing and fellowship are in focus. The footbath lounge is ideal for a chat with your friend, mother, or girlfriend. Here the time is all yours.
Your feet are cared for in the warm water with softening foot bath salts. You also have the option to purchase an extended foot pampering package, which includes foot salt, foot scrub, foot mask, and delicious foot cream.
Self-treatment area 
On the 1st floor of HimmerLand Spa, you will find a self-treatment area. Here, you can enjoy time to yourself and pamper the parts of your body that need it most.
In the spa shop, we offer wonderful, high-quality self-treatment packages from some of the wonderful brands sold in the spa shop.
Visit our Spa Cafe´ or Spa Shop
Spa Café
Whether you visit HimmerLand Spa in the morning, at lunchtime, or in the evening, you can find tasty dishes and snacks as well as refreshing drinks in the spa café. In the spa café, you can relax and satisfy your hunger in the fantastic surroundings of the spa. Our orangery is the perfect place to enjoy your meal. You can also take in the stunning view of the spa terrace from there. The spa café offers several delicious dishes, snacks, cocktails, draught beer, coffee, juice, and wine.
Orangery
Do you want to combine your trip to HimmerLand spa with quality time and a cosy atmosphere? Then we recommend that you spend time in our beautiful orangery. The orangery is a place for spa-goers to enjoy light refreshments and take in the views of the terrace. It's the perfect place to break away from the hustle and bustle of the spa and relax in the tranquil surroundings.
Spa Shop
In HimmerLand Spa, you will find the finest spa shop, with products for face, hair and body. That way, you can take a bit of the spa experience home with you, so you always have the option of pampering time. During the shop's opening hours, you can get help from our expert spa staff to find the right products for you and your needs.
Heated sun loungers 
In our thermal area, you will find heated sun loungers. The loungers are perfect for getting warm after cooling down under the cold bucket and Snowbliss – or just for relaxation.
The loungers are shaped to give you a great time, while warming up your body.
Relaxation areas
As you move around in HimmerLand Spa, you will come across cosy lounge areas in several places. Here, you are free to take a seat if you want to enjoy a drink from the spa bar or just need some relaxation time.
Unique experiences for all
At HimmerLand Spa, we will do everything to meet your expectations, so you leave here wanting to return.
That's why we offer unique experiences you won't find anywhere else.